Jamie
Sometimes I'm spending so much time at my desk that I'm not sure what to take pictures of! Luckily today I started working on something I'm really excited about, kind of a manifesto but more of an expression of "The Studio Way" for Jamie Ridler Studios. So I've been identifying some guiding principles and having a marvellous time! I'm already imagining each of these being combined with a beautiful photograph and being printed on a postcard!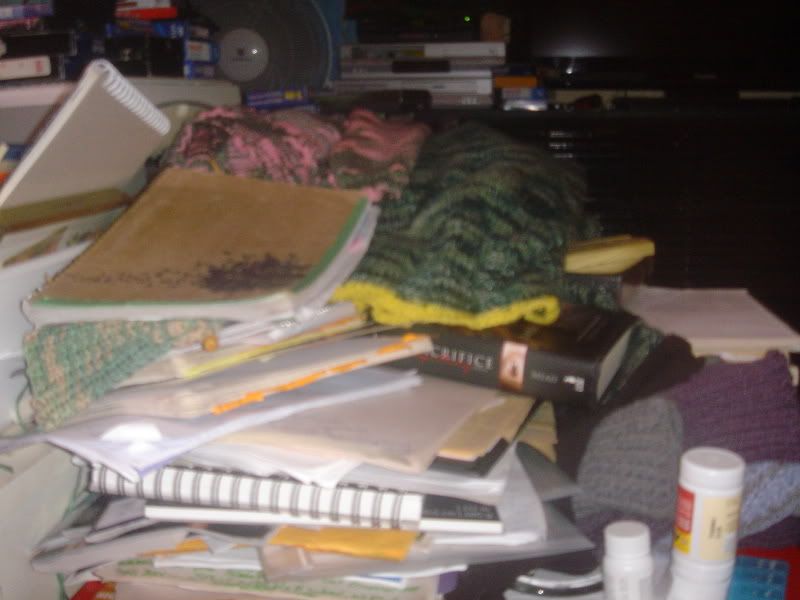 Shannon
Late Add! Yesterday I continued to
Get Back to Reading
, and even
wrote about it
over at Planet Shannon. I haven't put up a non-Star Trek post in ages! Now I know that piles doesn't look like there are many books, but somewhere hidden in there I believe to be my copy of The Great Gatsby! Fighting through that mess is going to be my quest of the day.
Suzie
Although sick, I still wanted to do a photoshoot of the cool stuff I bought at Hal-Con so I could finish up the coverage today. This is the owl pendant I tried to share with you at stART the other day. I really wish I could do work like this myself but it is really out of my league and this pendant haunted me. I just had to have it. It's weird sometimes wearing jewellery other people make but not this time. This is just so special and so me. It reminds me that it is OK not to have to do everything myself.