Jamie
Yesterday I was telling Shannon how powerful I thought
Lisa Michaels'
Samhain Ritual was. We tuned into messages from Earth, Air, Fire, Water and Spirit for the next 12 weeks, until Imbolc. One thing that Lisa did was use her Creation Cards, pulling one from each element and then creating a sentence as an intention and affirmation. I decided to do this too and the message was incredibly on target for what I've been thinking lately. Here's my guiding sentence: In order to fulfill my stewardship role, I must respect the pace of creation, focus on my own vibration and let go of the reins in a spirit of co-creation. And that's my intention for the next 12 weeks.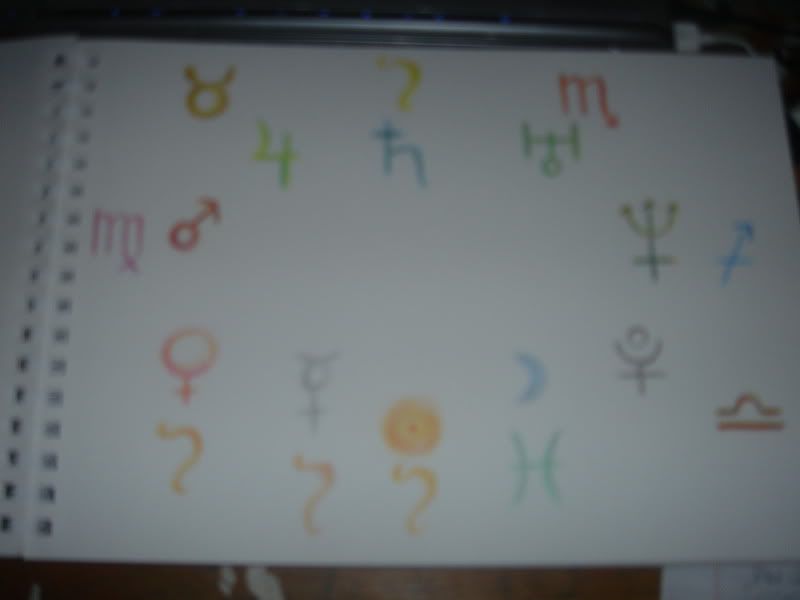 Shannon
I did some playing around with an idea Jamie shared about looking at your astrological chart as an advisory council, which made me want to draw out each of the planets and their signs. I don't know them all by site (especially the planets), but I know there is a lot of Leo!
Suzie
Yesterday was all about doing the
Hal-Con Charity Auction
post. I had a lot of little videos to put together so it took some time and I wanted to share the stuff we won so I had to do a mini photo shoot. Here are the steampunk spats I won! OMG, I love them. I'm also looking up crochet patterns so I can make my own. As someone who typically wears kind of boring shoes, I love the idea of spiffing them up with spats.