Jamie
Perhaps inspired by the Olympics or the more temperate weather, I went out for a run. It felt so good to channel my energy and get out of the house. I always love connecting with my neighbourhood this way and yesterday I loved doing my warm-up walk behind this guy and his cute bulldog. I was listening to this
song
as I walked briskly and enjoyed the beautiful moment.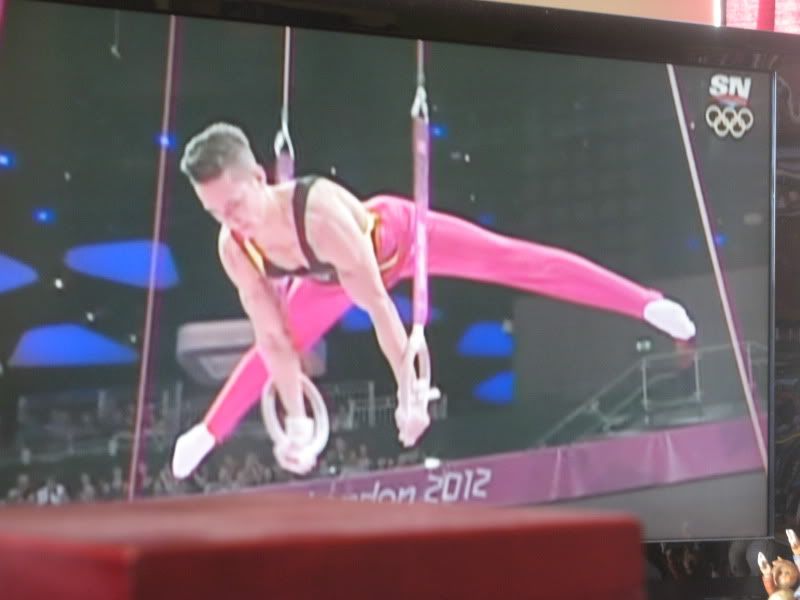 Shannon
This weekend was ALL OLYMPICS, ALL THE TIME! I was really taken by both weightlifting as well as likely my most watched ever Olympic sport: gymnastics. One of the big stats the announcers were sharing was how many people have completed in multiple Olympics, up to 6 if I remember right, and it freaked me out because I may have watched them each and every time! One of the ones I was most impressed with was
Marcel Nguyen
on the German team (image above) who consistently delivered with style and grace over and over and over on Saturday.
Suzie
Reg and I went to see
Out of This World Extraordinary Costumes
exhibit over the weekend. We also picked up one of the toughest pieces for his Hal-Con costume on Saturday, super exciting. Really looks like his cool costume is really going to happen. As a result, we were inspired to go check out famous costumes from the movies. Can you believe how tall the guy who played Darth Vader was? I of course wanted a photo of me with the Riddler costume. More to come on my blog tomorrow!