Jamie
Okay, so it's a fuzzy picture. Apparently my gold lame nails are so dazzling they interfere with photo taking! Shannon and I did a beauty experiment last night and tried Sally Hansen's Salon Effects. These are nail polish strips with amazing textures and designs that you peel and put on. They are real nail polish, removable with nail polish remover. They look amazingly fun and awesome. They were less easy to deal with than all those girls on YouTube say! Shannon and I are thinking about doing a video review of them later! For now, we're enjoying the splashy style!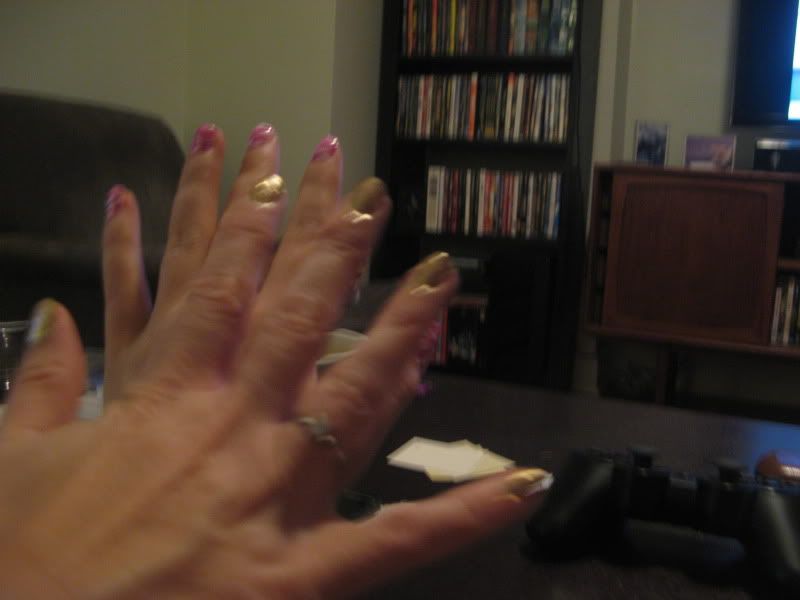 Shannon
Yes, another nail picture! I was quick to take it and wow, these were way more challenging that I expected from how 'easy' everyone says they are - but full disclosure that I've not done my nails in years. I've very curious is they last for ages like everyone says.... Day 2 and going strong :)
Suzie
I did it! I used Call Recorder to do a side-by-side interview with Jason from McDonald's yesterday! Oh I was so relieved that even with the heat walked to the thrift store to do shopping therapy. I didn't realized just how nervous I was but I did it and it all worked out and I replaced the two capris pants I ruined last week and got two tops to replace the four I ruined last week. Nice to have something go so right!
My only issue? We are both looking down the whole time because the camera is high but hey, I can live with that.