Thank you so much to the de-light-FULL
Paula from Happysnappy
for nominating Under Our Willow Tree for the Versatile Blogging Awards. We are all just beaming about our new venture being acknowledged in this way. Paula, you are welcome Under Our Willow Tree anytime! ((hugs))
Here are the rules for the Versatile Blogger Award:
If you are nominated, you've been awarded the Versatile Blogger award.
Thank the person who gave you this award. That's common courtesy.
Include a link to their blog. That's also common courtesy.
Next, select 15 blogs/bloggers that you've recently discovered or follow regularly.
Nominate those 15 bloggers for the Versatile Blogger Award.
Finally, list 7 things about yourself.
Now, we're going to divide up and overlap the responsibilities in a kind of playful spontaneous way but we're sure by the end we'll have met all of the requirements - and hopefully you'll all have enjoyed the ride!
Jamie
5 Blogs I enjoy and would like to nominate are:
7 Things about Me
I am a popcorn monster. *munch*munch*munch*
I love being barefoot.
When I lived at home, I had two miniature rabbits: one named Merry and the other, Pippin.
I'm hoping to lead my first retreat this year.
I minored in anthropology and loved it.
According to Strengthsfinder 2.0 (which I highly recommend), my number #1 skill is being strategic.
I have a thing for white flowers, peonies and chandeliers.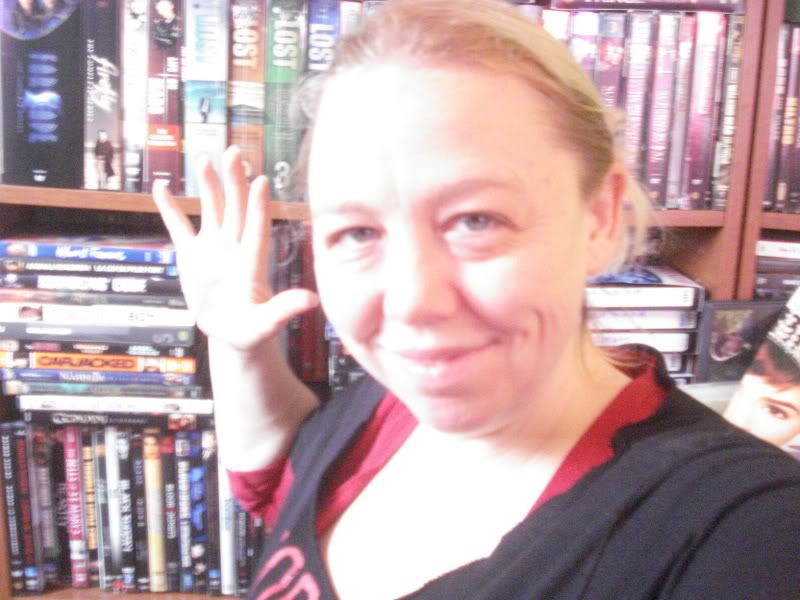 Shannon
5 Blogs I Enjoy and Would Like to Nominate
1.
Tuning Into Scifi TV
- a really great site & podcast that celebrates all things 'genre' TV. I would highly recommend their
Top Genre Shows of All Time
podcast series for any genre TV fan as well as their regular podcast which has both spoiler-free and in depth chats about science fiction, superhero, fantasy, speculative fiction, spyfy & anything else 'genre' related.
2.
TV, eh?
A fantastic site & podcast dedicated to Canadian television. I look forward to the podcast each and every week as it's not only a great resource for Canadian television but also because Diane & Anthony provide intelligent and entertaining commentary on the industry. Plus the site has a wealth of info on Canadian shows (which is a topic that is often not easy to find info about).
3.
Women and Hollywood
Melissa is totally awesome and I've been reading her site dedicated to women and the film industry for year; I love it's feminist perspective and how it both calls out the unjust as well as champions the champions. And it makes me think. A lot.
4.
Dead Book Darling
Anytime I'm looking for inspiration or want an opinion on new books to read of the YA or speculative fiction variety, this is where I go. Great insight, info, and I love the gorgeous pictures and great layout which makes it always a fun site to read.
5.
The Film Connoisseur
Awesomely thematic and film buff to the extreme with that perfect blend of insight *and* enthusiasm, I'm always amazed at how we are often enthusiastically watching the same films, but can have different opinions! I always look forward to reading this site.
7 Things about Myself
1. I'm short.
2. I'm stubborn.
3. I've had jobs where I worked with Jamie and with Suzie (and our brother Jason!)
4. I love podcasting, I have a spoiler-free film podcast (
The Movie Moxie Podcast
), co-host
Hexed: Sisterhood of the Supernatural
with Suzie, co-host a Twilight Podcast called
Before the Dawn
with my friend
Marina
AND and I edit Jamie's Podcast:
Creative Living with Jamie
. And I love guesting on podcasts too WOOHOO.
5. I love efficiency; always have and always will.
6. I'm mystified that I've been blogging for 6 years now! 6!
7. I'm so happy I'm back to loving reading, after takes *years* off from it.
Suzie
5 Blogs I enjoy and would like to nominate are:
Molly Roberts at Her Speak:
Kick-ass artist and singer with a wild sense of humour. I have her Emily Dickinson portrait up in my kitchen right now.
Strange Bitsy:
Fellow fibro friend yet goth & geek, Emily rocks.
Swan of Dreamers by Shell:
Dear online friend who lives in New York City as an actress, an enthusiastic fan of poetry and old movies and, most recently, a mom!
Bohemian Single Mom:
Fabulous and inspiring, Gabrielle is passionate about being a mom and staying true to her bohemian sensibilities. Funny, passionate and one of the coolest people ever.
Mother Henna:
Kara is such a talented and compassionate woman, a true creative spirit in every word. I adore her and she is a huge artistic inspiration for me. Plus she helped me find the skull & cupcake fabric I couldn't find anywhere!
7 Things about Me
I love the dark, spooky and all things paranormal. And pretty things too. Which is confusing!
I am a late bloomer when it comes to my foodie life which helped me realize that no matter what, you can learn something if you try hard and long enough.
I used to live near Value Village in Vancouver and started a bead collection from my shopping sprees which later turned into a jewellery obsession that helped keep us afloat when my husband lost his job.
I have climbed a mountain on Vancouver Island.
I woke up a bear on one of my hikes and survived. Scariest thing to have ever happened to me but also one of the most amazing moments of my life.
I like cupcakes as much as skulls and am experimenting with putting the two together.
I wanted to be a spy when I was a kid but realized I had too many morals that got in the way.