Jamie
Friday night hanging out with Shannon, eating Chinese food and enjoying my fortune.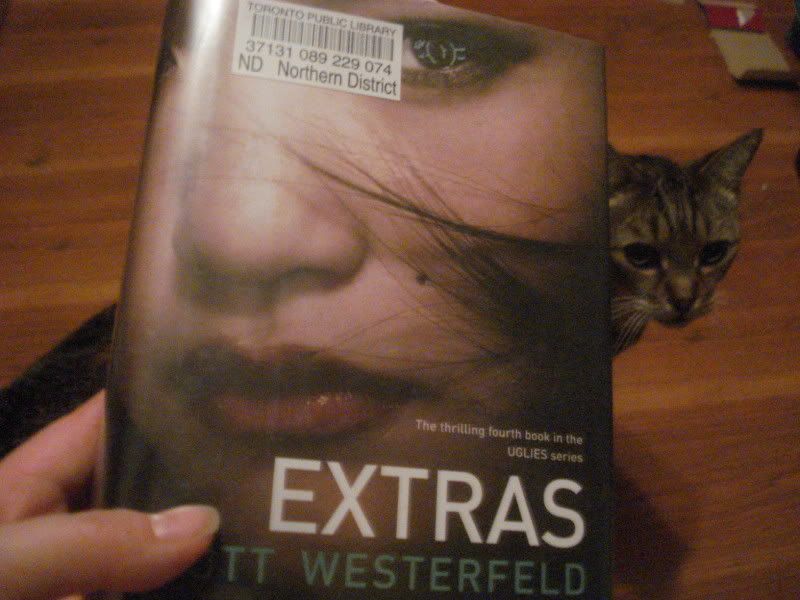 Shannon
I finished Extras by Scott Westerfeld today, it's the fourth and final book in the Uglies series - a very interesting post-apocalyptic set YA series that I've actually been working though for quite a while and it was wild to finally get all the way through! I really enjoyed it.
One of my carry-over book goals from last year was to *finish* many of the series I was in the middle of, so this is one more down (oodles to go...)!
And of course I had to add the cat in the picture...because I hadn't done that yet!
Suzie
Reg had the day off yesterday and dropped me off at the Dollarstore while he went to get a haircut. We have walkie talkies so after I stocked up on crafting supplies and browsed, I got a transmission from him telling me he was done and in the parking lot so I went in line to pay. Life without cell phones!
I finally gave in and bought some air hardening clay. I am done trying to make my own clay! So many disasters, I finally came to my senses and started using the clay I worked with at the very beginning of my pendant-making odyssey in BC. Totally worth $1.50.