Jamie
I had a little bit of birthday money still left from Mom and fell in love with these earrings made of two of my favourite shapes: circles and stars. I ordered them from
Gem Passion Jewellery
on Etsy. It's so lovely to get tangible beauty in the mail!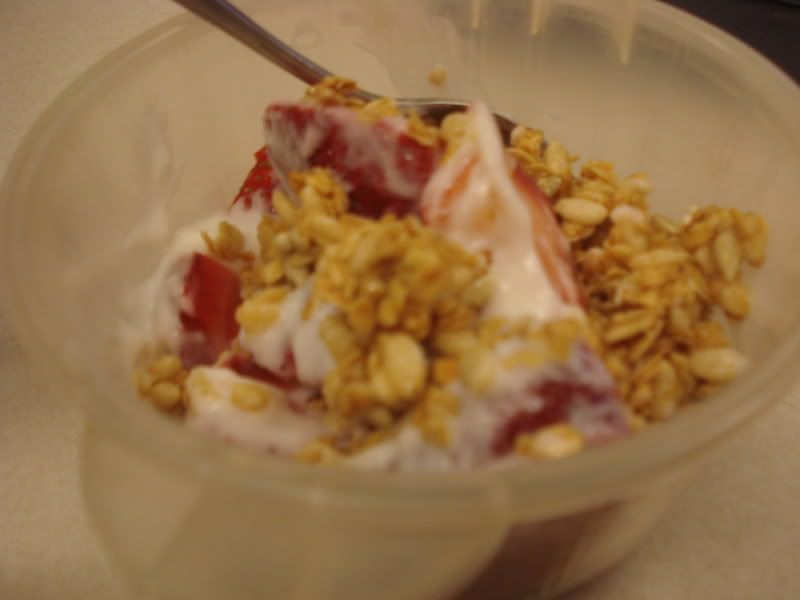 Shannon
So. Funny Story.
Last week I realized I was buying a lot of berry/yogurt/granola thingies on break. I though - I'd love this with more fruit, maybe I should make my own.
Being me, I had to price it out in money and yum and energy factor.
Money:
week 1 was about the same, but I will not have to buy granola & honey again right away.
Yum:
I wanted and got more berries, but still would have liked more. Berries are expensive. And yummy.
Energy factor:
This added to my regular weekly shopping & chopping plus DAILY prepping, carrying & doing dishes. And I stayed at work instead of getting 'out'. UM. Wha?
So - I'm not sure how much trade off this. In the long run I might save a bit, but not tons especially if I get more berries. Also, I kind of have this as a snack - and I'm not even sure I need that much for a snack. I'll likely continue to experiment with it next week and see how it goes.
Suzie
Just been napping and very depressed. No Crafty Thursday, no energy. Starting to feel like it is a waste of time but maybe I'm just gong through a phase. I just know that I hate snow and freezing rain in March. Sucks the life out of me.