Jamie
Okay, that's weird. I had totally posted already and then came by and my pic and post were missing! Well, even that can't dampen the excitement of the new addition to our home: a PVR!! We had been using Justin's Archos, and though it seemed second nature to him, it always seemed to be a battle for me. In contrast, this sweet baby is easy-peasy! I've already taped some Olympics, The Dog Whisperer and Around the World in 80 Plates! And I love being able to do a quick 8-second rewind - comes in handy when rewatching a dive or a tumbling run!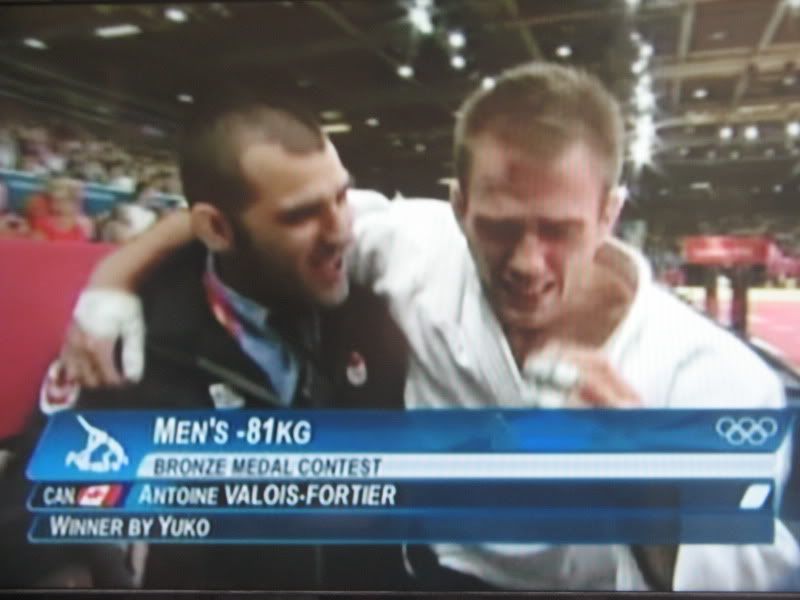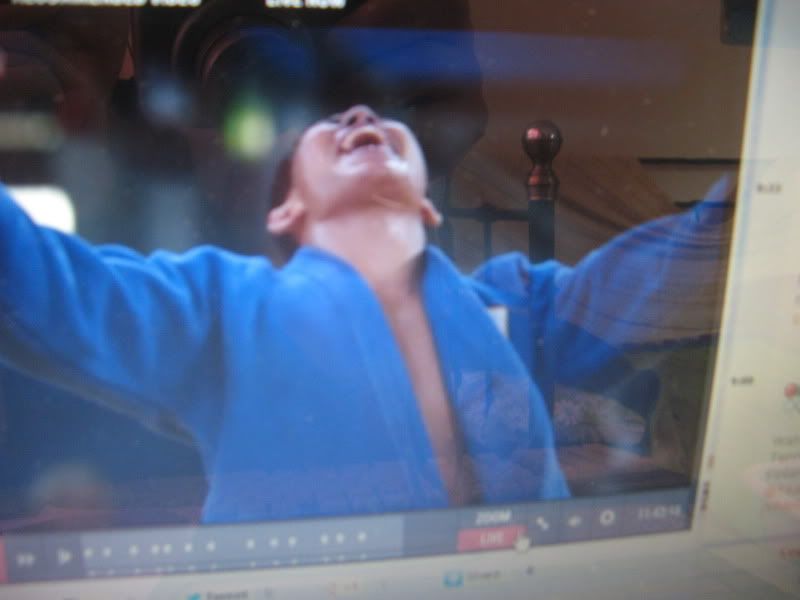 Shannon
Olympic fever continues and I've been really taken by the Judo, and there were lots of amazing matches on Day 4 including a very aggressive one between USA and Germany that I actually thought was going to turn into a fight! But they got gentlemanly and kept joining without it going overboard. There was a lot of excitement for Canada in Judo on Day 4 as
Antoine Valois-Fortier (left) won a Bronze
after a very powerful match. The Gold went to KIM Jae-Bum (right) of South Korea in another formidable match and you can see the elation of the moment.. I'm really thankful that they aired Judo on TV on Monday with great commentary by
Frazer Will
, after watching it with commentary I felt I could kind of understand what was going on (live feeds have no commentary - but the athletes have *great* walk on music), for a sport I barely had a clue about beyond the name. I'd love it if they'd add commentary to the live feeds! They did broadcast the Bronze medal match though which was great. I'm going to keep watching Judo this week as there are different weight classes competing on different days. Maybe by the end of the week I'll go from kinda understanding it to really understanding it! And if you missed it, it looks like the Day 4 live feed
will stay active - watch here
- woohoo!
Suzie
Last night I was determined to finish project 1 in my online crafting workshop. The problem was finding a swatch of polar fleece without cutting something up. Then I realized I had felted a sweater and could use that instead. Making the holes was the hard part but the rest was kind of easy. I really didn't pay any attention to doing a good job, I just wanted to figure out how to do it and it still didn't look that bad in the end. This is a huge step for me. My shirts are always too short and just the idea of adding a nice trim to the bottom is liberating and exciting!