Jamie
I've had these two desks in my studio the whole time but only recently did I realize they are serving these different and complementary functions. Yesterday I really enjoyed keeping my journals open and available on my right-brain desk as I worked away at my left-brained one. Whenever I felt the inspiration, I'd swivel around and capture a thought or take some time to process. I love working this way.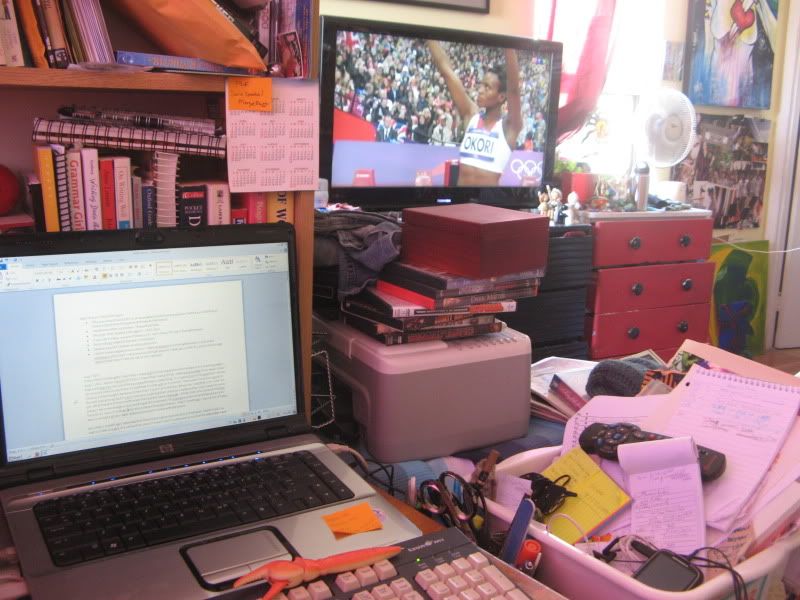 Shannon
This was my view I had for pretty much the last 2 weeks, and I have to say I really miss the Olympics! Seeing so many amazing athletics, fantastic sports and the drive for excellence multiple times daily was so inspiring. I hope everyone gets home safe & sound!
Suzie
After the zombie apocalypse we spent yesterday going out to buy a saw for Reg to cut this tree apart. It had fallen onto our shed and when Reg pulled it down, my bush green beens narrowly escaped destruction!
I worked on the dandelion invasion which resulted in thoroughly screwing up my shoulders, even worse than before. It was hot as hell yesterday, the humidity here is actually worse than Ottawa, so I didn't do much else. Our
holidays
are always pretty exhausting.