Jamie
So... how do you take a picture of the day when your pipes backed up and flooded part of your basement? Putting bleach on a black rag, that's how! Who knew you could get a pretty little batik moment in the midst of piling, cleaning and throwing out stuff from your basement? The good news is that we had someone in last night who was able to fix the problem. Phew!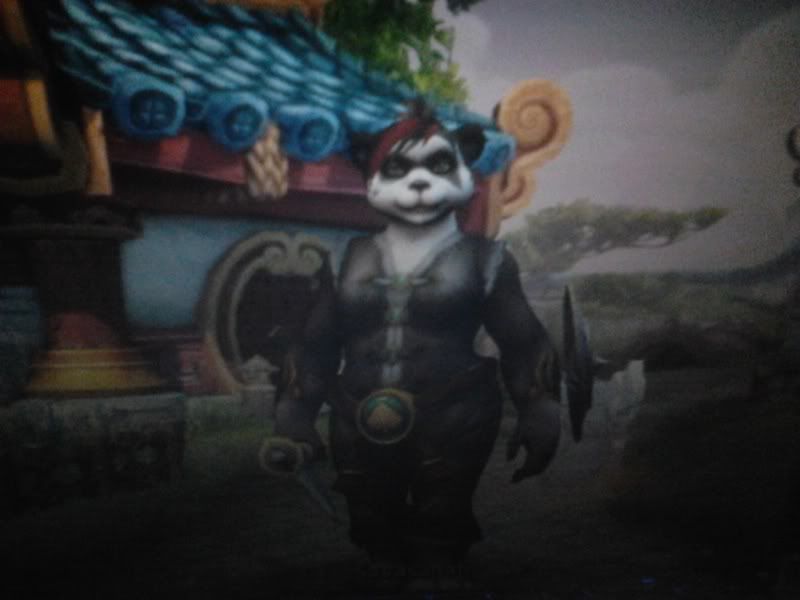 Shannon
Panda time! I having fun playing a little Panda in WoW, although haven't quite decided which class to play... shammy...rogue... warrior? Decisions, decisions!
Suzie
Yesterday I had this feeling I should go to my thrift store. Turns out they were having a tax-free day and I got some really cool stuff for very cheap. Recently I went through and editing down on Pinterest "My Style" Board to only have up what I currently do not have a lot of in my wardrobe but want to manifest. In one word? Character!
So that was my aim and I think I did well. When I saw this pink studded plastic belt for $1 I had to have it for Hal-Con and my Hexed costume. I love the hat too and so did the ladies at the store, they insisted I buy it. My basic wardrobe is not very exciting but if I treat it as the basics for a costume and accessorize appropriately, it is actually fun. Clothing fun? It's a first for me!